Certificate Attestation Services in India
Certificate attestation is compulsory when you move to another country for various purposes like higher studies, employment, etc. You are asked to attest your educational and non-educational documents to prove its originality.
WHAT IS CERTIFICATE ATTESTATION ?
Certificate/Document attestation is the act of formally verifying the certificate/documents to prove the originality. It is mainly done for educational documents, marriage certificate, birth-certificate, and for commercial documents.
These are the various certifiate attestation needs to be done on
Educational Documents

HRD / HD / GAD Attestation
MEA Attestation / Apostille
Embasssy Attestation

Personal Documents

Home Department Attestation
MEA Attestation
Embassy Attestation

Commercial Documents

Chamber of Commerce (COC) Attestation
MEA Attestation
Embassy Attestation
then only these documents are valid for any purpose outside the home country of an applicant.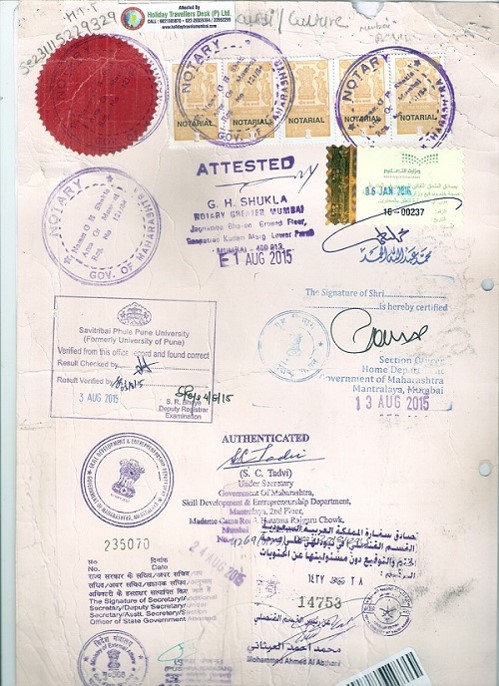 Need for certificate attestation
Certificate attestation is compulsory requirement if you are migrating to other countries for study or employment purposes. You need to produce the certificates in foreign countries for the purpose of verification. These documents are verified to check its originality. For that, you need to attest (verify) these documents from the embassy office of the migrating country in your home country.
Attested documents can prove the originality of your documents. In case of educational documents, you have to certify the certificates from the HRD department of the state of document issued. Such an HRD attested document proves that the certificate/document was issued by the state where you completed the education. Attestation is required when you apply for higher studies in foreign universities or schools. It is also required for finding a job in a foreign country.
Certificate attestation is needed for:
Migrating to another country.
Higher studies in foreign universities and schools.
Starting a new business abroad.
Opening a new branch abroad.
Employment purpose.
Family/residence visa.
We attestationhub.com provide end-to-end services for commercial documents attestation from chamber of commerce , MEA (Ministry of External Affairs) and Embassy Attestation services for our clients, we commit best in class services with following 100% legal and genuine document attestation process to get the authentication done from the concerned departments, so that one should not face any hassle in proceeding further document process.
We are having PAN India wider robust service network to deliver the best services to our clients and some of the facilities to make us different from other service providers are
Secure Online Payment Options (Credit/Debit Card/Wallet or Net Banking Payment Modes)
Online Document Process Tracking
Courier Facility along with Pick-up option(restricted)
Transparent & Flexible Fee Structure
10000+ Documents Attested
10+ Years of extensive experience
Best and Qualified Trained staff
For any Queries related to Document Attestation, HRD Attestation, Chamber of Commerce and Embassy Attestation feel free to contact us at
Call @ +91 78-400-500-18
WhatsApp @ +91 78-400-500-18
IMO @ +91 78-400-500-18
Email : info@vnlservices.com
We will try to resolve your query on priority and would like to serve you.
REQUEST A CALL BACK.
Would you like to speak to one of our advisers over the phone? Just submit your details and we'll be in touch shortly. You can also email us if you would prefer.